Ananda Liina is a spiritual yoga center and community. We offer meditation and yoga classes, collective meditation sessions, seminars and retreats.
Yoga is the science of physical, mental and spiritual development and it is a way of life at Ananda Liina. Ananda Liina was set up to create a peaceful environment where everyone can begin the practice of yoga and meditation.
In addition to yoga and meditation, Ananda Liina is striving to become an example of ecological sustainability and local self-reliance. To that end, we are engaged in organic farming, ecological water management and we harvest wind and solar energy. We are also a certified wildlife habitat.

Ananda Liina means "merged in bliss". So, take a look around our website and learn more about us, and we hope that you will come and visit in person very soon.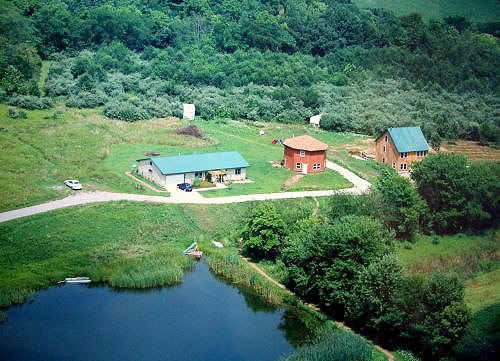 A bird's eye view of the lake and some of the buildings at Ananda Liina.